Our (current) premises
New buildings are necessary in order to establish a satellite campus of the University of Bayreuth in Kulmbach.
These will include house offices, seminar rooms, research laboratories, as well as rooms for administration and service. Until the new building works are completed, various areas in Kulmbach will be used in the transitional period.
Currently, Faculty administration is located on the premises of Kulmbacher Spinnerei. The former administration mansion (Fritz-Hornschuch-Str. 13) provides conference, seminar, and meeting rooms, which can be used for various university and non-university events (both by in-house and external interested parties).
The address and a description of how to get here can be found here.
Further architectural developments are progressing continuously. We will be pleased to inform you when the respective extensions have been completed.
Service and equipment
Our premises are accessible via an electric transponder lock. Employees of the University can be granted access, while guests receive a loan transponder. The rooms have flexible seating and equipment (LCD display, whiteboard, flipchart, lectern, PC-projector, Eduroam or Bavaria WLAN) as well as catering on request, and can in part be used around the clock. Please note that our premises are unfortunately not yet barrier-free.

If you have any booking requests, questions, or suggestions, please contact the secretary's office.
---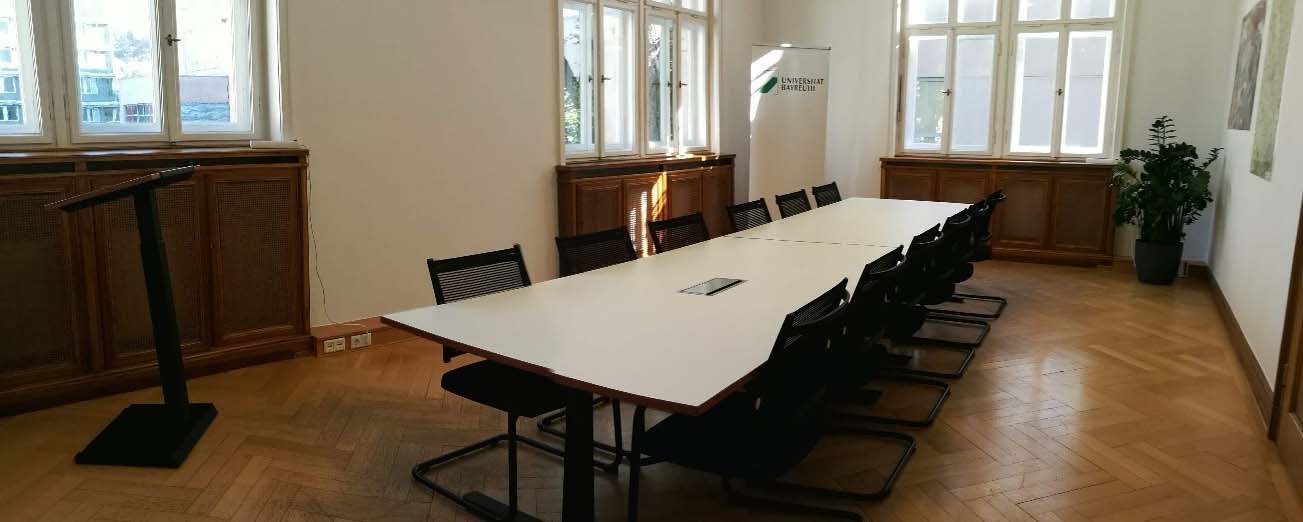 Conference room "K7" on the 1st floor:
Equipment
2 large tables (one with power, HDMI, and VGA connection in the middle)
12 chairs (expandable up to 16)
Lectern
70-inch fixed LCD display (includes HDMI and VGA connector and cable)
PC-projector extra (incl. HDMI and VGA cables)
USB Presenter
Photo camera with video option
Video conference system technology
Flipchart available
WLAN available (Eduroam or Bavaria WLAN)
---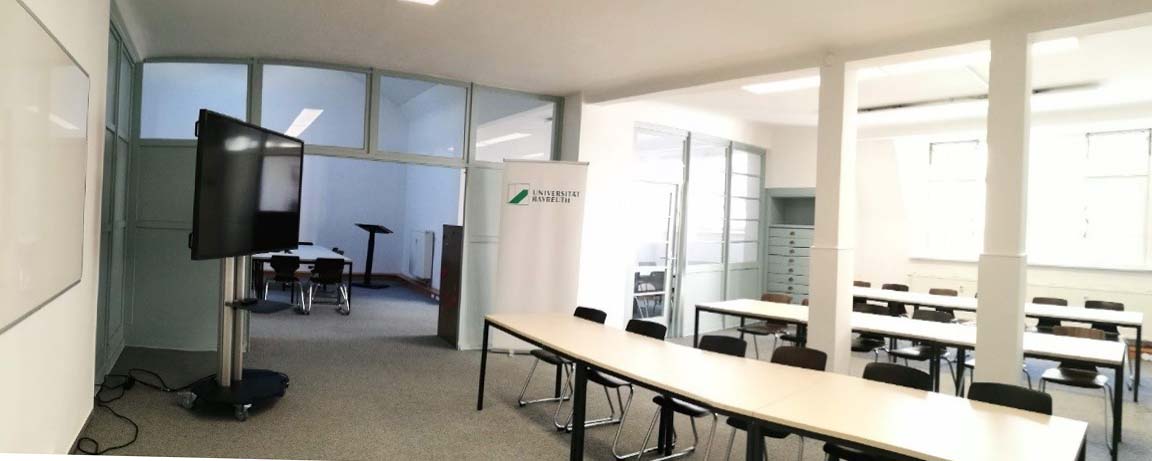 Seminar room "Fritz-Hornschuch" and meeting rooms on the 2nd floor:
Direct transition between three rooms
Seminar room with 9 tables / 18 chairs (reconfigurable / expandable)
Large meeting room with 10 tables / 16 chairs (O-shaped arrangement)
"Gewächshaus" (conservatory) small meeting room with 4 tables / 8 chairs
Spare chairs available
Equipment
>20 tables and >50 chairs distributed over 3 rooms, flexible division possible
Mobile 70" LCD display (incl. HDMI or VGA connector and cable)
Whiteboard in the seminar room (incl. pens and magnets)
Flipchart available
Lectern
WLAN available (Eduroam or Bavaria WLAN)

---