Quality Management and University Rankings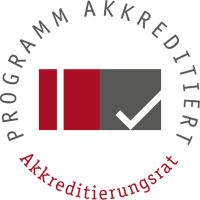 The quality of our study programmes is particularly important to us. We strive to educate our students at the highest level in an application-oriented and research-based manner. With this approach we ensure that our students are prepared in the best possible manner for both their professional and personal future. Our students are therefore at the centre of our quality management. We have a clear objective to not only ensure that our study programmes are of the highest quality, but also their future systematic development.
Quality Assurance in Teaching and Learning at the University of Bayreuth is system accredited. This means that every study programme that has passed through the University's internal quality management system bears the seal of the German Accreditation Council and thus meets national and international quality standards. All study programmes of Faculty VII: Food Nutrition and Health have been evaluated and successfully accredited by an external group of experts as part of this system.

It doesn't take a hundred years to make a name for yourself in the national and international university environment. The University of Bayreuth is the best proof that it can be done faster. From our founding in 1975, we have consistently thought along interdisciplinary lines. Today, this has made us pioneers of innovative research and teaching. The success of this strategy is reflected in national and international rankings. The current results are the best motivation for us to become even better.
Click here to find our current ranking results.